Emergency Services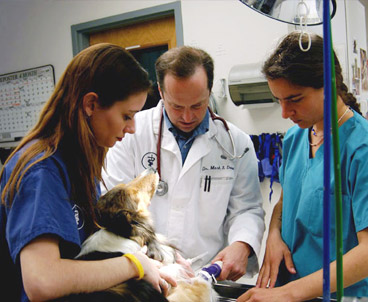 When your pet is injured or suddenly develops a life-threatening illness, this is an emergency. If you think your pet is experiencing a medical emergency - anytime, day or night - please call us at (631) 537-0035 immediately. It is better to err on the side of being too cautious.
If your pet is experiencing an emergency outside our normal business hours, you will be given instructions to contact our on-call veterinarian.
We also recommend the following emergency hospitals:
East End Veterinary Emergency and Specialty Center
67 Commerce Drive
Riverhead, NY 11901
631-369-4513
Long Island Veterinary Specialists
163 South Service Road
Plainview, NY 11803
(516) 501-1700
Veterinary Medical Center of Long Island
75 Sunrise Hwy A
West Islip, NY 11795
(631) 587-0800
When Should I Seek Emergency Care for My Pet?
The easiest answer as to whether you should seek emergency care for your pet is when you feel his or her medical condition is serious and cannot wait. However, the following general situations should help you determine if you need to seek emergency care for your pet:
Frequent Vomiting or Retching
Frequent Bouts of Diarrhea or Straining
Difficulty Breathing (heavy or shallow)
Bloated or Distended Abdomen
Hyperthermia (heat stroke) or Hypothermia (low body temperature)
Straining to Urinate and / or Blood in Urine
Convulsions or Seizures
Any Trauma (hit by a car, falling out of a window, a fight with another animal)
Injury or Irritation to the Eyes
Exposure to Poison or Toxic Chemicals
Inability to Deliver Puppies or Kittens
Burns
Lacerations or Bleeding Wounds